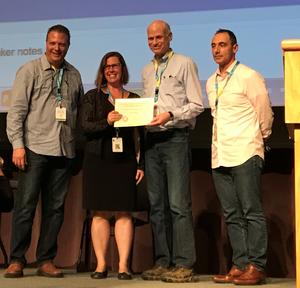 Heidi Wagner, Assistant Dean for Administration, Social Welfare and Max Michel, Enterprise Data Warehouse Dev/Ops Manager, represented the PI Portfolio team and accepted a Larry L. Sautter award today at the University of California, San Diego. The award was presented as part of the University of California Computing Services Conference
PI Portfolio provides a quick yet comprehensive overview of faculty-managed fund balances, expenses, and budgets for faculty-managed funds and sponsored awards. In support of the research mission of the University, the PI Portfolio Projections project delivered an integrated set of standardized tools and corresponding business process guides for Research Administrators and faculty to manage their financial activities.
The Larry L. Sautter Award for Innovation in Information Technology is an award that recognizes innovative deployment of information technology in support of the University's mission. The complete list of award winners for 2017 is listed on the Office of the President website.
The PI Portfolio project team also won a Chancellor's Outstanding Staff Award earlier this year.
Congratulations to the Cal Answers PI Portfolio Team
Heidi Wagner – Program Manager
Teal Sexton – Functional Lead
Frances Kendall – Technical Lead
Naresh Meda, Aswan Movva – Developers
Peter Cava, Sameer D'Souza – Data Architects
Quin Bligh – Database Developer 
Heidi Van Yang – Communications
Jeremy Linneman – Training
Jenny Su – Business Analyst