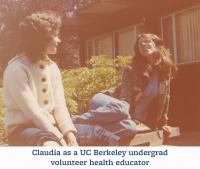 A career in healthcare was a natural progression for Claudia Covello, Executive Director of University Health Services (UHS). As she explains, "The work keeps emerging. It just gets more and more fascinating to support young adults on this journey." In the past 35 years, Claudia has supervised every one of the 30 departments in UHS, but it took a little bit of "dabbling" to find her niche within the field.
As an undergraduate Clinical Psychology major at UC Berkeley in the late 1970s Claudia worked at Cowell Hospital (the original name of UHS) as a peer health educator.  She also trained and volunteered to provide peer counseling to stressed students. Through this experience, Claudia realized how "very complicated and difficult" mental health work could be. So by the time she walked down the aisle at Zellerbach Hall for her undergraduate commencement, she was certain she didn't want to follow the path of many of her clinical psychology classmates. But healthcare was still calling to her; she just needed a few additional experiences to find her direction.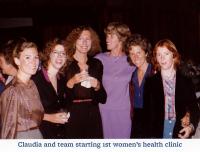 After graduation in 1978, during the heyday of the women's health and disability rights movements, Claudia volunteered at the Berkeley Women's Health Collective and worked at the Center for Independent Living to once again work on the front lines of health services. After two years, the then-Executive Director of UHS reached out to Claudia and asked her to launch the first-ever Women's Health Clinic on campus. When she realized this was an offer that truly excited her, Claudia thought she may finally be on the path to the career she'd been looking for. And she was right. What started as a 2-year employment contract with UC Berkeley led to a successful 35-year career.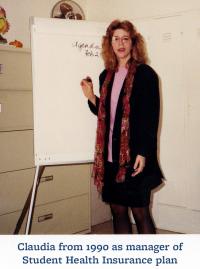 Claudia progressed within UHS from a Health Educator to a Senior Administrative Analyst in her first 10 years, then in 1990 she was tasked with a landmark assignment:  developing the first UC Berkeley health insurance plan voted in by a student referendum. This was Claudia's first experience with the business side of healthcare, and as is her nature, she was exhilarated by the new challenge of blending business acumen with her extensive service experience.  She became a self-taught expert in student health insurance plans and for many years worked closely with insurance brokers and carriers to manage the self-funded plan.
Claudia continued to take on progressively more managerial roles and responsibilities as UHS' Clinical Services Director for several years, then an opportunity arose that culminated in a Chancellor's Outstanding Staff Award for her exceptional work. Claudia was nominated to take a hiatus from UHS to develop a team and lead a 2-year strategic planning process for the Division of Business and Administration (as Administration and Finance was known at the time).  This role gave Claudia a much broader campus perspective and afforded her the opportunity to implement balanced scorecard methodology and collaborate with senior leaders across the division to set a long-term vision and prioritize strategic initiatives.
When Claudia returned back to UHS she was made Deputy Director of the organization. Continuing her forward momentum, Claudia became Executive Director in 2006 and in 2009 she led the development of UHS's strategic plan, which still functions today. As Executive Director, Claudia is currently responsible for directing UHS' 300 employees and running a nationally accredited medical, counseling, and health promotion organization providing services for 36,000 UC Berkeley students, and several employee health clinics and programs for faculty and staff.
Claudia's career trajectory is full of examples of her recommendations for success, but she says what's most important is to accept each new assignment you're offered and move around the organization to develop the depth and breadth of your experience. It's critical to keep your skills fresh with new experiences so you're always ready for the next assignment. For example, amidst her busy career, Claudia slipped in obtaining a Masters of Art in Leadership to formalize her organizational and leadership skills, and this experience afforded her greater insights into her managerial style. As a leader, Claudia believes in "distributed leadership," meaning she is acutely aware of her strengths and weaknesses and creates exceptional teams to complement her skill set. "Do what you do well and surround yourself with talented people, then do everything you can to bring out the best in them," Claudia explains.
These days Claudia is focused on two issues very near to her heart: Sexual Violence Prevention and Food Security. Sexual Violence Prevention is bringing Claudia to a very reflective place because she began her career in women's health. She feels very connected to the work of empowering campus' vulnerable populations, particularly so because this movement is focused on prevention and education which she sees as the keys to developing personal boundaries and understanding consent.
Food Security came to the forefront a few years ago when Claudia's team started noticing many students didn't have enough food to eat and were uncertain where their next meal would be coming from. During health education sessions, Claudia's staff were hearing critical clues:  students were tired, unable to focus in class, were skipping meals, weren't able fly home for holidays, and had nowhere to live or eat while campus was closed. Now, UHS is partnering with Equity & Inclusion (E&I) to assist students struggling with food security and affordable housing. Through her team's work with E&I, the campus launched the UC Berkeley Food Pantry and are educating students about resources such as CalFresh Food Stamps, local affordable grocery stores, budget meal planning, and monetary food assistance programs.
Lastly, Claudia has been highly focused on redefining and innovating the delivery of primary care and mental health services. This year's top priority is developing a collaborative care model to create an interprofessional team practice that connects  behavioral and physical health in order to improve the client experience and destigmatize mental health.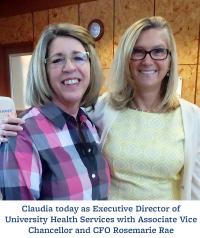 Claudia's tenure at UC Berkeley has allowed her to view the trends each generation of students brings to the forefront. But the one thing they have in common, she shares, is that the mind and body are connected. Students need the entire UC Berkeley infrastructure  — academics and administration — to move through this developmental time and graduate successfully. College is a time when students are increasingly learning new life skills for the first time, and as Claudia says, "it's fascinating to interact with these elements through the years."